The new blog is starting to look less like an after party at Speidi's and more like an up and coming intraweb. Yay. What's my secret? Exhaustive blog surfing, commenting, linking, and generally making a nuisance of myself. It doesn't get any more basic than that.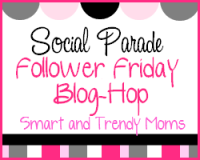 Considering the amount of time I've spent doing all this today, accidentally running across a blog-hop for smart and trendy Moms hardly comes as a surprise. Yes, I know it's only Thursday night and Social Parade Followers Friday is supposed to take place tomorrow. So what? I feel like I stumbled upon a backstage pass or opened a candy bar with a golden ticket. The last time I happened upon a good looking blog-hop, it was closed. This time, I'm going for the gusto.

Bear with me here. I have no idea what I'm doing or how this stuff works. I only know that to keep my listing on the blog-hop, I MUST write about the parade every Friday, actively visit and comment on other blogs, and be a good doobee until we all get sick of each other or find the next big new thing to get noticed online.

Just kidding.

Gosh, I really hope I remember to check my email for reminders about this. Who knows what I'll be doing next Friday or whether I'll have time to write, surf, and comment. I may have bitten off more than I can chew. On the other hand, it would be nice to feast at an all you can east buffet.

Break out the parade floats!