Last week, I joined Social Parade Follower Friday, a friendly blog-hop created at Smart and Trendy Moms for bloggers who want to link, find new blogs, and develop new friendships.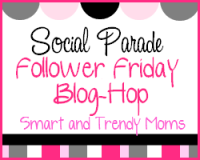 I'm sorry to say that I only had time to visit the first five bloggers (my computer is so slow). They were lovely, really, leaving comments and joining my communities after I had visited their blogs and done likewise.


There was a lot of "I'll scratch your back, you scratch mine" going on with the hop, which is fine for the first five bloggers. After that, it all became a big fuzzy blur.

My fellow blog-hoppers are nice and everything, but maybe I'm not into sites whose sole purpose in life is giving away stuff to get more followers. Nothing personal. That shouldn't diminish the awesome blogs which actually do have something to say and there were a few. I'm hoping to find more this second time around.

Unfortunately, I am not as well-positioned on the list as I would like for this second parade. So why, you may ask, if I am about to become #124 on this week's blog-hop (maybe even farther down on the list by the time this posts), do I continue to stick with the program? I mean, who in their right mind what sweet and altruistic person is going to take pity on a blog that far down the list?

I'd be plenty surprised if there are any. But, hey, a gal's gotta dream.



blogging